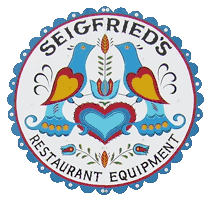 About Seigfried's Restaurant Equipment
When you call Seigfried's you get a real person on the phone who knows the answers to your questions about your project or needs. We will walk through the whole process with you.
​
​ Our History starts in 1975 with Jay Seigfried and a single car garage located just off of interstate 78 in Berks County. Jay was there daily from 10am-1pm, and would sell used equipment to walk in customers. Jay and his son Earl (Buddy) Seigfried would purchase, clean, and service equipment by themselves; then deliver all of the equipment with a single pick-up truck. They would advertise only locally, and would sit by the phone and wait for sales. In 1999 Seigfried's Restaurant Equipment became a corporation and moved to our current location in Myerstown. Buddy had taken over for his father Jay by this time, and continued to operate the business with his wife Debbie. We have slowly continued to grow to-date. We are excited about the future opportunity to serve our customers in the Restaurant Industry.

We Have Been Serving our clients in the food service industry for over 40 years, proving that we have what it takes to make it in this industry. Honesty, Integrity, and Quality Products and Services that we Always Stand Behind.